Accelerate @ TechVenture 2011
— posted on
 October 18, 2011 4:29 PM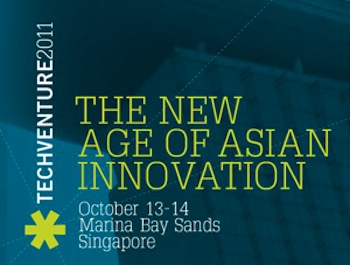 Hello, Singapore! The first thing I did when I touched down on Singapore was take the MRT, and bask in the glorious feel of a working public transport system as opposed to the one I am accustomed to, here back home. Incidentally, KTM has just announced that they will give you a full refund for every 30 minutes train delay. Seriously wondering if that will work. But ah, how I digress. I was in Singapore for Accelerate @ TechVenture 2011, held at the Marina Bay Sands. According to
the website
:
TECHVENTURE 2011 is presented by National Research Foundation (NRF) and Singapore Venture Capital and Private Equity Association (SVCA) and organised by Asiasons WFG, in partnership with SingTel Innov8. This is Asia's premier event for the VC/PE community to engage with and pick the next generation's greatest innovators. The summit event will draw ultra high net worth individual investors, Venture Capitalists, Private Equity Fund managers, Limited Partners (LP) and Sovereign Wealth Funds (SWF).

Now into its pivotal 15th year, TECHVENTURE 2011 will feature some of the wealthiest individuals, youngest billionaires and decision makers for the biggest investment funds. TECHVENTURE 2011 continues to establish Asia as the prime region for the deployment of smart money. Discover where the next surge of exponential growth and returns are as you meet and interact with these leaders and visionaries.
So how was the event? Seriously good. It may not mean much to others but to me, it rekindled the fire that once burned within me. You can easily check out
their website
for some of the big names who were there but the panel sessions were marvelous and eye-opening. Topics were:
NFC - Reaching an old new market
,
The flat world of mobile games
, and
"Oh! Our business model is to build advertising real estate to monetize our apps!" Really?
In addition to the exhibition fair showcasing various innovations, there were also the
Asia Top 50 Apps award
, and the Pitch To The Stars event. Where else can the budding entrepreneur go if not to events such as this? PS: Can we beg for more tickets next time?
---