Digital Pagoh: One Late Update
— posted on
 June 9, 2010 6:02 PM
Last Sunday (6th June to be exact), a magical morning, as we drove 165kilometres for just an hour fulfilling our dreams to meet the Malaysian Deputy Prime Minister,
Tan Sri
Dato' Haji
Muhyiddin
bin Mohd. Yassin. The event: Digital Pagoh Launching and ICT Carnival. [caption id="attachment_844" align="alignnone" width="300"]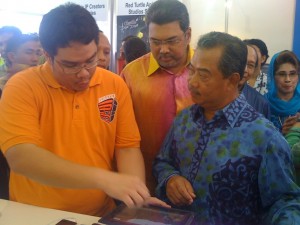 Reza: Tan Sri, with just a touch this app really could creates an instant website for you![/caption] It was a great experience. Meeting people from various ages and backgrounds always inspiring us to produce the best. We will always looking forward to do this again.
On the side note, we would love to help out any technology and developer communities out there who need some kind of sponsorship or donation(in the form of beverages, foods, capital venture?) for your small gathering or meeting or maybe a small scale event.
Feel free to email us on this matter.
---