Introducing the all New CIMB Clicks for iOS and Android!
— posted on
 October 22, 2012 5:14 PM
[caption id="attachment_3333" align="alignnone" width="334"]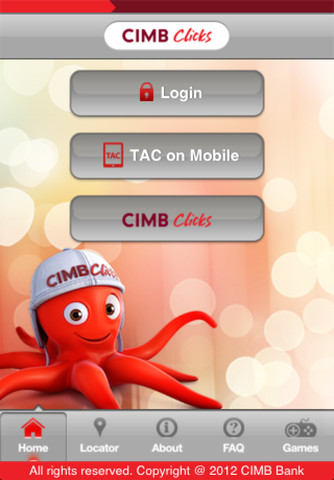 Hello Octo! ~(O)~[/caption]
CIMB, one of the leading financial institution in Malaysia, has finally released the latest version of their Mobile Banking application for iOS and Android devices. In-conjunction with the releases, CIMB also introduced the new design for their CIMB Clicks website.
With the latest version of the app, users finally will have a complete and better banking experience within the application. Enhancement for Android and iOS as listed on the Apple App Store and Google Play:
#Account Balance enquiry
#View transaction history
#Fund transfer
#Bill Payments
#Prepaid Reloads
#FD placement
#Transaction Scheduling
#Gold Investment Account via CIMB Clicks
-Invest/withdraw through your current/savings account -Buy/sell gold any time from 8:30am to 11:30pm, 7 days a week* -Track your daily gold value online, in real time, and get email/SMS alerts on gold price -Buy/sell gold via Schedule Transaction -Determine profits with our online calculator
#You can also Request TAC directly from the app (without doing the transaction first)
Some of the screenshots: [nggallery id=49] Don't wait. Download the app now for FREE for your respective devices, For Android Devices: Google Play

For iOS Devices iPhone/iPad: iTunes link
---