Official New Straits Times Press apps
— posted on
 October 27, 2015 12:02 PM
Reading newspaper is a good habit that can provide a great sense of educational value. With this habit, it will not only enhance your knowledge about general information but it will likewise improve your language skills and vocabulary. Many people have habits of reading daily newspapers that their days seem incomplete without taking hold of early morning newspapers. In Malaysia, the oldest newspaper still in print is the New Straits Times. It was first issue on July 15, 1845. At that moment, it was so new that it requires, Robert Carr Woods, the editor, single-handedly edit and publish by hand press. It was just an 8-page folio-sized paper.

Though New Straits Times Press is not the first, but up until today, the publisher is still passionately publish newspaper and disseminate news to the public, making them country's longest running newspaper. Today, the New Straits Times has evolved over more than a century to provide its readers with the most current and in-depth news reporting across all the available platforms. Despite all the important and beautifully written articles, these days, there is still gap between news publishers and readers. In the current era of internet generations, scenario has changed, the public tend to read more news from social media and blogs through out the day. Regardless whether it is genuine, or just a hoax. In fact, things get even worst when people share it around their circle, some just trying to verify how far is it true. It is clear that today's generation is one that demand latest news. The idea of having to wait articles only to be published the next day is becoming less and less practical.
We are proudly to introduce new mobile applications by
New Straits Times Press
powered by our team which offers more features and brings portability at its best. Among the features are, push notification for breaking news, photos as well as videos accompany articles, sharing of articles, and best of all, offline reading and bookmark, allowing you to read news even without internet connection. All articles will be fed into your phone or tablet the second it were published. We hope we bring you closer and updated with a more reliable news. The mobile application can be downloaded for both platform the iOS and Android.
NewStraitsTimes


BeritaHarian


HarianMetro


With the success of app release to AppStore and PlayStore, boss invited us all, the team, to Project Completion Dinner @ Marriot Hotel. Here is our group photo of team bloated after the buffet. :D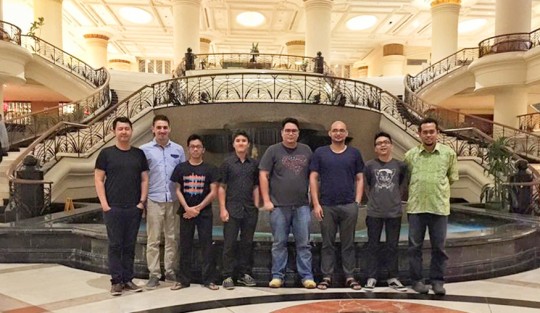 ---