Qalvinius Updated: Sold Item
— posted on
 February 8, 2010 4:41 PM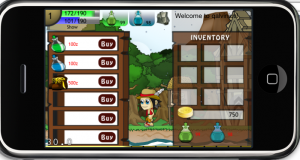 Currently our game engine is at about 75-80% completion. Players can now sell items from the inventory box.
Bugs we are still working on:
Players can still sell items when there is no merchant layer open.
The items count were not function properly yet - items sold 10 times are still counted as 1. :S
Fixed bugs so far:
Adding some thingamajig for the merchant layer.
If the layer is closed, items will drop and vanish from the inventory.
Item quantity variable added.
Fix the bug where quantity of items sold kept on  increasing.
WAIT FOR MORE OF OUR GAME DEVELOPMENT PROGRESS IN THIS PAGE! ;-)
UPDATES

: For all the latest news on this game, please browse the main page HERE. Thank for all of your positive comments and support! =)
---