This boy, Keen want to say something. Oh, Jake as well!
— posted on
 June 8, 2011 9:17 AM
[caption id="attachment_2010" align="alignnone" width="540" caption="Can you see Keen and Jake there?"]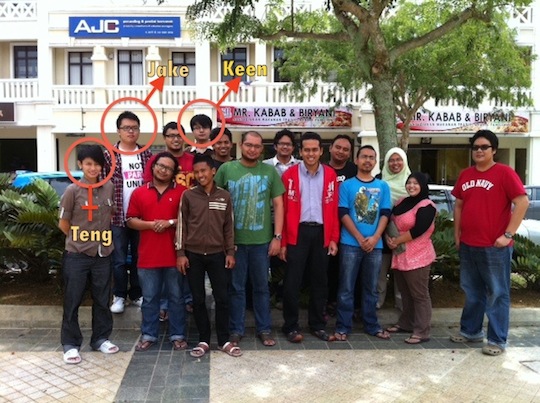 [/caption] This is a special post for a guy who's been quiet for the last 3 months in our humble but sweet organisation. Actually, it's written by him. So:
At first I would like to thanks the boss, Mr. Reza for giving me the opportunity to intern in the company. I am so proud because I have a chance to do my internship in one of the top mobile company in the country. He also gave all the members of Terato free lunch every day. I am so pleased with the boss because he decided to give us a real project which we could screw up considered our knowledge on porting an app to iOS and android devices. Thank you for believing in us.
Besides this, I would also like to say thank you to Ashraf, our supervisor. He gave us a lot of supports and I thought he has done a very good job on supervising our progress to get the 'Oct*' explorer game done. I also want to thank Hijazi, who also helped us a lot especially in some parts of scripting and also found a very good guide on how to connect Xcode with Unity. Furthermore, I also want to thank Helmi and Zara because they always lend me the Android devices when I wanted to do testing. Helmi also helped me a lot in Eclipse because I never learn Eclipse before, and thank to him the Facebook and twitter part finally done before my internship end. :P
At last I would like to thanks to all the members in Terato Tech. They are kind and friendly, and never treated us like stranger. Because of the foods I expected my weight to be increased. However my weight didn't go up but it went down by 1kg, kinda strange... maybe I didn't eat too much fried and oily foods compared to someone who always ate frieds and oily foods which made his tummy bigger and bigger…you guys know who I meant right? :P
Anyway, thanks again to all of the members of terato. Keep in touch and all the best!!!
Thank you for your lovely words Keen. And also, read this blog by Jake on his experience during internship period with us:
Jakel168's
---